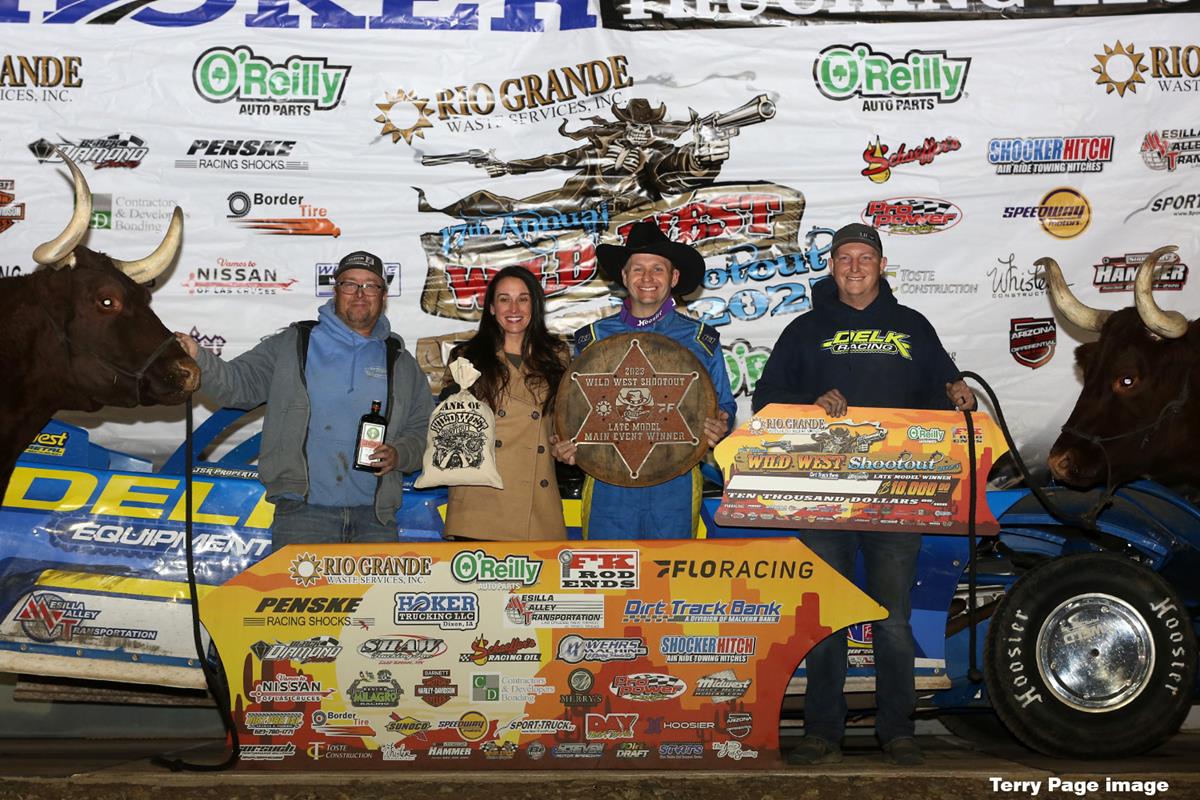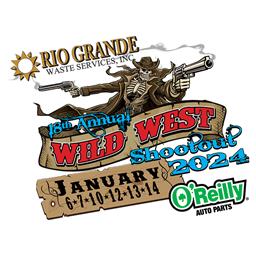 1/15/2023
Wild West Shootout
---
Marlar, Jackson, and Ramirez Headline Saturday Night Wild West Shootout Wins
VADO, N.M. (Jan. 14, 2023) — Mike Marlar, Kris Jackson, and Dereck Ramirez bested Saturday night's action in the Rio Grande Waste Services Wild West Shootout presented by O'Reilly Auto Parts at FK Rod Ends Vado Speedway Park.
Employing the same car that won last year's World Finals finale, Mike Marlar surely thought he'd perform better than just one top-five finish through four races at the Rio Grande Waste Services Wild West Shootout.
"I was ready to come out here and put it on these guys," Marlar said. "It's been a rough week so far. It's a humbling sport. It's really tough, a lot of good competitors. It's always tough, you know?"
Fortunately for Marlar, those words were delivered in a much nicer setting on Saturday at Vado (N.M.) Speedway Park, as the Winfield, Tenn., veteran outpaced Jonathan Davenport and Kyle Larson to win the miniseries penultimate race worth $10,000.
Marlar, who is last year's Wild West Shootout champion, hasn't been all that far off to begin the 2023 season. It's just he's expected more than his finishes of eighth, sixth, fifth and seventh to begin the week.
"Man, been a long week so far," Marlar said. "Happy to get a win there. It was fun racing."
What made Saturday's feature enticing was the fact that Marlar ran down and passed Davenport, the winner of the first three Wild West Shootout Dirt Track Bank Super Late Model division presented by Black Diamond Racecars races, with 14 laps to go and then staved off a charge from Larson, who erased a 1.6-second deficit with four laps remaining to attempt a last-corner slide job rounding for the checkers.
While Davenport, Larson and early contender Bobby Pierce committed to the uppermost part of the track most of the race, Marlar exploited a groove two lanes off the very top that no driver could seemingly duplicate.
"I saw (Larson) on the board, and I figured he was running the cushion, so I was trying to make my entry wide enough down here," Marlar said. "I was really way better through the middle. I just wanted to make my entry wide enough down here. I don't know if I was hurting him or not. I knew he was coming. I was trying to stay as high as I could. He was definitely better off the cushion."
Larson, who started 11th, made his way to fifth with 12 lap to go when a caution for 14th-running Billy Moyer gave the NASCAR star a fine shot at the win. As Pierce threw a slide job on Davenport into turn one on the restart to briefly regain second, Larson one-upped them both by finding a window of opportunity around the bottom.
"I was hoping we would get a caution there when we did," Larson said. "I kind of figured Bobby would throw a slider or something into one on the restart, and if I plugged the bottom a couple laps, maybe things would work out. And it did."
Larson officially dispatched Pierce for second with seven laps to go, as Pierce lost control of his Longhorn Chassis in the midst of the tense battle for second through turns three and four.
"I was able to show my nose at the right time and he got over the cushion in four to get to second," Larson said. "I put together some good laps. Made one mistake as soon as I got to second in three and four, and lost like a straightaway on (Marlar). I had to plug away trying to get back to him.
"I think if I hadn't made that mistake, it'd be a different result. But he was obviously getting signals and running a lane where it was going to be difficult to make a move on him once I did get right to him, which I did the last lap there. Fun race again and another good car."
The caution for Moyer with 12 laps left was the lone stoppage of the race. Eight laps prior to that, Davenport held a one-second advantage over Marlar at the halfway mark and appeared on his way to banking a $25,000 portion of the Penske Racing Shocks Paydirt Jackpot with his fourth win of the week.
But Davenport, who eventually finished fourth behind Ricky Weiss, couldn't navigate lapped traffic as fluid as earlier in the week. A rare mistake along the turns one and two cushion on lap 27 caved Davenport's chances as Marlar generated the go-ahead run through the middle of the corner.
"I got in a really good race with Jonathan there in lapped traffic. It just worked out for me," Marlar said. "His car got a little loose in that air, more than mine, I feel like. It worked out, got by him there. Then, at the end of the race, lapped cars really were helping me."
Weiss, meanwhile, came from seventh to keep his run of top-sixes going. The Headingley, Manitoba, native doesn't have much to nitpick about a ledger that includes finishes of third, fifth, fourth, sixth and third.
"We were just picking our way up to the front there," Weiss said. "Larson got by me and I tried to follow him. He took off for a little bit. We started reeling him back. I was questioning how this guys were making these tires work. That caution, I was like, we'll see right here. You could tell (Pierce) and (Davenport), their stuff kind of gave up a little bit. They've been so good this week, so it's good to get by them, and get up near the front."
In Shocker Hitch X-Mod competition presented by Barnett Harley-Davidson, Kris Jackson decimated the field from the second-starting spot in the 25-lap feature. The Missouri driver bagged his third win of the week and the $1,000 top prize. He crossed the finish line 4.894 seconds in front of Jimmy Ray with Mike Striegel, Lucas Rodin, and Gabe Hodges completing the Top-5 finishers.
Jackson is eligible for a $2,500 bonus from Arizona Differential by Nate if he can win Sunday night's finale.
Taking control of the lead on the fifth lap of the feature Dereck Ramirez rumbled to his third victory in the Mesilla Valley Transportation / Border Tire Modifieds presented by Ranch Milagro. Tyler Wolff led the first four laps of the feature before Ramirez assumed control.
Ramirez raced away from the field to score the victory over Tyler Davis, Tyler Wolff, Darron Fuqua, and Rodney Sanders.
The miniseries draws to a thrilling conclusion on Sunday, Jan. 15 with the sixth-and-final round. The festivities will be headlined by the $25,000-to-win Rio Grande Waste Services 50 presented by Shaw Trucking for the Dirt Track Bank Super Late Models presented by Black Diamond Race Cars. Additionally,, the Mesilla Valley Transportation / Border Tire Modifieds presented by Rancho Milagro ($2,000-to-win), and Shocker Hitch X-Mods presented by Barnett Harley-Davidson ($1,000-to-win) share the day's spotlight.
The pit gate opens at 1:00 p.m. MST with grandstand gates opening at 3:00 p.m. Hot laps are at 3:30 p.m. with racing action at 5:00 p.m.
Grandstand general admission (ages 13-and-up) is $30, while children (ages 6-12) are $10, and kids (ages 5-and-under) are free.
Reserved seating is only available online and can be purchased at www.wildwestshootout.net/buy-tickets/ for $35 per ticket.
For full event details, please visit www.WildWestShootout.net.
The Rio Grande Waste Services Wild West Shootout presented by O'Reilly Auto Parts is made possible by Rio Grande Waste Services, O'Reilly Auto Parts, FK Rod Ends, Dirt Track Bank, Black Diamond Race Cars, Hoker Trucking, ShockerHitch.com, Penske Racing Shocks, Shaw Trucking, Schaeffer Oil, SportTruck RV, Nissan of Las Cruces, Rancho Milagro Racing, Eagle Moon Hemp, Top of the World Ranch, Mesilla Valley Transportation, Border Tire, Wehrs Machine & Racing Products, Barnett Harley Davidson, Dirt Pro Grading & Padwork, Contractors & Developers (C&D) Bonding, Shocks by Hammer, Midwest Sheet Metal, Speedway Motors, Day Motor Sports, Hoosier Racing Tires, Sunoco Race Fuels, Pro Power Engines, Beaver Stripes, Arizona Differential, Gorsuch Performance Solutions, Toste Construction, Winning Edge Carburetion, Sipes Tractor & Transport Service, Merry's Home Furnishings, The Joie of Seating, Screven Motor Speedway, DirtDraft.com, and FloRacing.
17th annual Rio Grande Waste Services Wild West Shootout presented by O'Reilly Auto Parts
FK Rod Ends Vado Speedway Park
Jan. 14, 2023
Dirt Track Bank Super Late Models presented by Black Diamond Race Cars
A Feature 1 (40 Laps): 1. 157-Mike Marlar[4]; 2. 6-Kyle Larson[11]; 3. 7-Ricky Weiss[7]; 4. 49-Jonathan Davenport[1]; 5. 58-Garrett Alberson[2]; 6. 32-Bobby Pierce[3]; 7. 14M-Morgan Bagley[15]; 8. 2S-Stormy Scott[9]; 9. 1ST-Johnny Scott[6]; 10. 04-Tad Pospisil[14]; 11. 97-Cade Dillard[12]; 12. 86-Kyle Beard[20]; 13. 21-Billy Moyer Sr[8]; 14. 8-Dillon McCowan[13]; 15. 14S-Collen Winebarger[22]; 16. 75-Terry Phillips[18]; 17. 28-Dustin Sorensen[10]; 18. 49T-Jake Timm[21]; 19. 77-Preston Luckman[25]; 20. 82-Ian Whisler[19]; 21. 3J-Josh Cain[23]; 22. 1T-Tyler Erb[17]; 23. B5-Brandon Sheppard[5]; 24. 20-Rodney Sanders[16]; 25. 24-Bill Leighton[24]
Mesilla Valley Transportation / Border Tire Modifieds presented by Rancho Milagro
A Feature 1 (25 Laps): 1. 4R-Dereck Ramirez[3]; 2. 65-Tyler Davis[7]; 3. 4W-Tyler Wolff[2]; 4. 87F-Darron Fuqua[8]; 5. 20-Rodney Sanders[6]; 6. G17-Fito Gallardo[12]; 7. 65X-Carlos Ahumada Jr[24]; 8. 11X-Tom Berry Jr[9]; 9. 60-Dan Ebert[5]; 10. 02-Tanner Mullens[17]; 11. 91-Joe Duvall[10]; 12. 88X-Nathan Smith[1]; 13. 4RX-Jared Russell[19]; 14. 58X-Gary Christian[4]; 15. 71-Dustin Strand[21]; 16. 8N-Nick Rivera[13]; 17. 19SB-Lance Mari[23]; 18. 10B-Brandon Givens[16]; 19. 24X-Xavier Ortega[14]; 20. WW1-Ricky Alvarado[20]; 21. J17-Jake Gallardo[18]; 22. 32-DJ Shannon[15]; 23. 12-Jason Ingalls[11]; 24. 89-Steven Whiteaker Jr[22]
Shocker Hitch X-Mods presented by Barnett Harley-Davidson
A Feature 1 (25 Laps): 1. J2-Kris Jackson[2]; 2. 0-Jimmy Ray[4]; 3. 17S-Mike Striegel[8]; 4. 19-Lucas Rodin[10]; 5. 7G-Gabe Hodges[16]; 6. 24-Jonathon Ortega[15]; 7. 1S-Scott Bintz[18]; 8. 21-Jake Smith[22]; 9. 99-Jason Grimes[21]; 10. M17-Rob Moseley[14]; 11. 21S-Shane McNutt[24]; 12. 11-Lucas Ward[7]; 13. 07-Donavon Flores[3]; 14. 21A-Andrew Hodges[9]; 15. 44JT-Jaime Torres[19]; 16. 5M-Eric McNutt[11]; 17. 12-Justin Allen[23]; 18. X15-Jesse Haynie[1]; 19. 06-Chris Theodore[17]; 20. 5-Reece Solander[6]; 21. M77-Cameron Martin[12]; 22. 14J-Jacob Hodges[20]; 23. 17-Peyton Gallardo[5]; 24. 5C-Preston Carr[13]
Article Media
Back to News