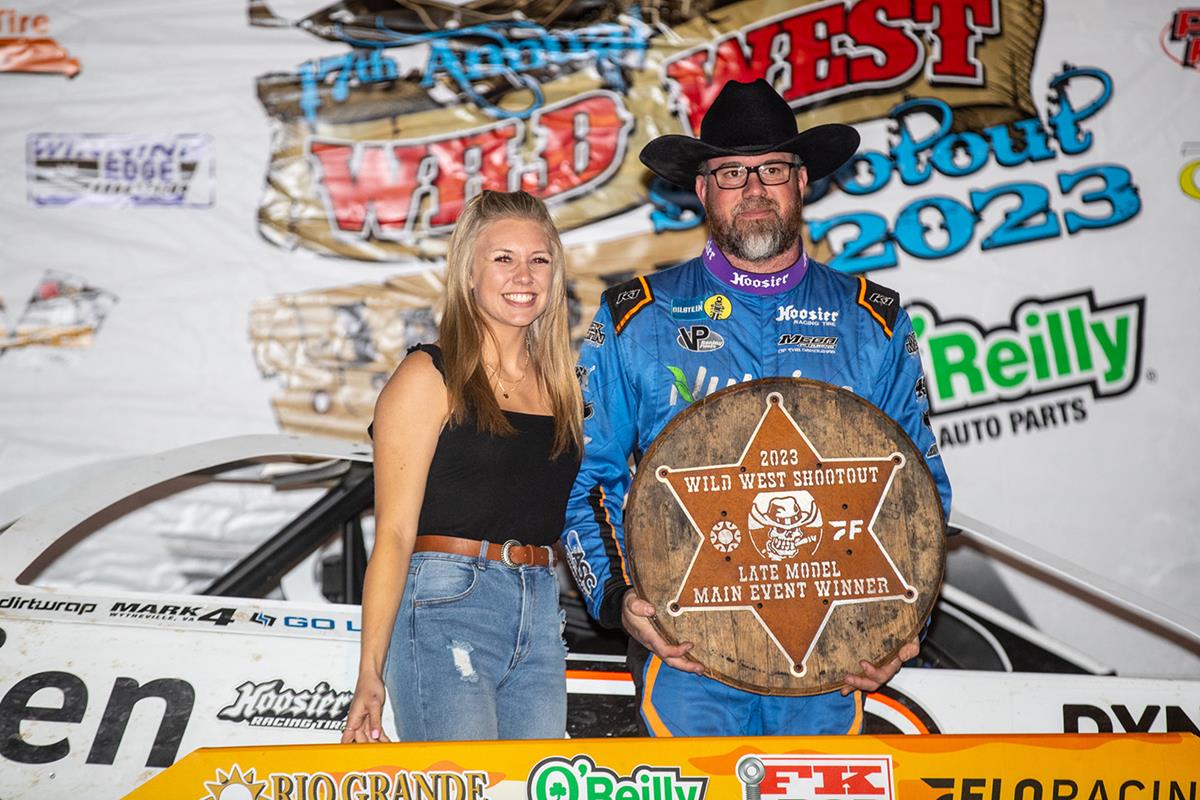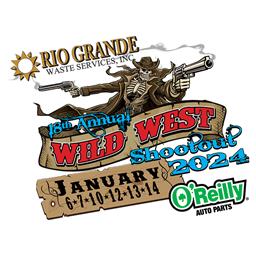 1/12/2023
Wild West Shootout
---
Davenport and Ramirez on Top Again at Wild West Shootout; Rodin Victorious
VADO, N.M. (Jan. 11, 2023) — The third round of the 17th annual Rio Grande Waste Services Wild West Shootout presented by O'Reilly Auto Parts came to life on Wednesday night at FK Rod Ends Vado Speedway Park.
A two-day intermission could do nothing to stunt the momentum of Jonathan Davenport, nor offer his nearest competitors additional time to close the gap in the apparent deficit.
The Blairsville, Ga., juggernaut rolled to a third straight win in as many days in the Dirt Track Bank Super Late Models presented by Black Diamond Race Cars to start the national Dirt Late Model season, commanding all 30 laps from the pole to pocket another $10,000 victory. More notably, Davenport is now three races away from the $300,000 Penske Racing Shocks Paydirt Jackpot should he capture the remaining rounds.
After Bobby Pierce of Oakwood, Ill., fell 0.670 seconds shy in the nonstop feature, one question remains: can Davenport be stopped this week?
"I don't know, there's always a (different track) condition," Davenport said. "I may not get a good draw in qualifying or something in the heat race. It's a real racy racetrack. I don't know with the amount of competition here, if I start sixth, seventh, eighth on back if I can get to the lead. We'll have to see. Hopefully we don't have to find that out.
"We're going to reset here, and we have three more to win."
In his Hoker Truck Victory Lane interview, Davenport said he never saw Pierce in his peripheral view, but stick signals from new crew chief Cory Fostvedt suggested that the sport's top ranked driver wouldn't win his third straight feature with ease.
"He never separated the sticks. I tried to figure out where I was losing ground and where I couldn't gain any," Davenport said. "I tried watching the board over here, but once I got to traffic, I was focused on lapped cars ahead of me there."
Davenport's largest lead on Pierce came on lap 17 when he stretched the margin to 1.755 seconds, but from there, the race for the win was on. If there was a point in the running where Davenport appeared vulnerable, it was seven laps to go when he'd been held up behind the slower car of Terry Phillips.
Up to that point, Davenport dispatched lapped traffic with a singular move — not needing multiple attempts to pass the slower cars — but for whatever reason, it took him an extra corner to pass Phillips. That sequence then allowed Pierce to draw within a car length rounding six laps to go. It was, on the other hand, Davenport's only noticeable blemish, which clearly hadn't been enough for Pierce to capitalize.
"We were catching them there," said Pierce, who logged the third night in his new Longhorn Chassis. "Wish tonight was 40 laps, but we knew that the 30 laps was tonight. We tried playing the tire game around it. All in all, I think we were really good. We had a shot there and (Davenport) never made any mistakes. He's a heck of a wheelman. So hard to pass there; you get those lapped cars in between you. It was so much fun. I was very happy with second."
Davenport added that he didn't mind the tense moments amid slower traffic.
"I don't mind it. It's kind of like a chess game, really," he said. "There were a couple times I was probably not close enough to slide them. I figured if I could at least park in front of them they wouldn't try to turn back under me, or if they did, it'd at least fill a gap where Bobby could get to me. I was just trying to make my moves cautiously and try to be smart about it too.
"All the lapped cars gave me a lot of room there. I know a couple of them I didn't give them a lot of room. I was racing for the win. Hopefully they understand that. Once again, Cory, Vinny Guliani and Michael Bixby did an awesome job on this thing. I'm just the lucky one that gets to hold the steering wheel."
Brandon Sheppard of Berlin, Ill., occupied the runner-up spot throughout the opening 16 laps and salvaged a third-place effort for his third straight top-four finish to start the new season.
While Sheppard never gave Davenport a shot at the lead in the early going, he's content at the midway point in the event that continues Thursday with another $10,000-to-win program.
"It was really good," Sheppard said. "We changed some stuff on the car tonight and I felt like once we started running through the middle into one, I wasn't quite as good as I needed to be. But my car has been phenomenal all week. I definitely am not hanging my head over a third-place finish. I can't saying enough about (my) guys. … It's been a helluva ride so far, hopefully we can get one this weekend."
North Dakota's Lucas Rodin got the monkey off his back and picked up the victory in the Shocker Hitch X-Mod feature presented by Barnett Harley-Davidson division. Rodin spent much of the feature battling Gabe Hodges for the lead before surging ahead to get the victory.
Jesse Haynie, Gabe Hodges, Jimmy Ray, and Dalton Ragsdale completed the Top-5 finishers.
Dereck Ramirez banked his second-straight Mesilla Valley Transportation / Border Tire Modified win presented by Rancho Milagro victory. Tyler Wolff led the first two circuits before Ramirez inched ahead for the lead. The duo battled side-by-side for the next few laps before Ramirez began to inch away from the field.
The Woodward, Okla. racer went on to dominate the remainder of the event, crossing the finish line 3.590 seconds ahead of Wolff. Tenth-starting Tanner Mullens was third with Ricky Alvarado and Darron Fuqua completing the Top 5.
The miniseries takes a final day off on Thursday before three-straight days of action kicks off on Friday, Jan. 13 with the second round of the mega miniseries. The evening's festivities will include complete programs for the Dirt Track Bank Super Late Models presented by Black Diamond Race Cars ($10,000-to-win), the Mesilla Valley Transportation / Border Tire Modifieds presented by Rancho Milagro ($1,000-to-win), and Shocker Hitch X-Mods presented by Barnett Harley-Davidson ($500-to-win).
The pit gate opens at 2:00 p.m. MST with grandstand gates opening at 4:00 p.m. Hot laps are at 4:30 p.m. with racing action at 6:00 p.m.
Grandstand general admission (ages 13-and-up) is $25, while children (ages 6-12) are $10, and kids (ages 5-and-under) are free.
Reserved seating is only available online and can be purchased at www.wildwestshootout.net/buy-tickets/ for $30 per ticket.
For full event details, please visit www.WildWestShootout.net.
The Rio Grande Waste Services Wild West Shootout presented by O'Reilly Auto Parts is made possible by Rio Grande Waste Services, O'Reilly Auto Parts, FK Rod Ends, Dirt Track Bank, Black Diamond Race Cars, Hoker Trucking, ShockerHitch.com, Penske Racing Shocks, Shaw Trucking, Schaeffer Oil, SportTruck RV, Nissan of Las Cruces, Rancho Milagro Racing, Eagle Moon Hemp, Top of the World Ranch, Mesilla Valley Transportation, Border Tire, Wehrs Machine & Racing Products, Barnett Harley Davidson, Dirt Pro Grading & Padwork, Contractors & Developers (C&D) Bonding, Shocks by Hammer, Midwest Sheet Metal, Speedway Motors, Day Motor Sports, Hoosier Racing Tires, Sunoco Race Fuels, Pro Power Engines, Beaver Stripes, Arizona Differential, Gorsuch Performance Solutions, Toste Construction, Winning Edge Carburetion, Sipes Tractor & Transport Service, Merry's Home Furnishings, The Joie of Seating, Screven Motor Speedway, DirtDraft.com, and FloRacing.
17th annual Rio Grande Waste Services Wild West Shootout presented by O'Reilly Auto Parts
FK Rod Ends Vado Speedway Park
Jan. 11, 2023
Dirt Track Bank Super Late Models presented by Black Diamond Race Cars
A Feature 1 (30 Laps): 1. 49-Jonathan Davenport[1]; 2. 32-Bobby Pierce[2]; 3. B5-Brandon Sheppard[4]; 4. 7-Ricky Weiss[6]; 5. 157-Mike Marlar[10]; 6. 6-Kyle Larson[5]; 7. 58-Garrett Alberson[8]; 8. 97-Cade Dillard[12]; 9. 14M-Morgan Bagley[3]; 10. 49T-Jake Timm[16]; 11. 04-Tad Pospisil[9]; 12. 8-Dillon McCowan[14]; 13. 21-Billy Moyer Sr[15]; 14. 86-Kyle Beard[7]; 15. 75-Terry Phillips[13]; 16. 1T-Tyler Erb[21]; 17. 28-Dustin Sorensen[18]; 18. 42S-Don Shaw[22]; 19. 2S-Stormy Scott[24]; 20. 24-Bill Leighton[20]; 21. 7C-Cole Wells[19]; 22. 02-Kollin Hibdon[23]; 23. 1ST-Johnny Scott[11]; 24. 20-Rodney Sanders[17]
Mesilla Valley Transportation / Border Tire Modifieds presented by Rancho Milagro
A Feature 1 (25 Laps): 1. 4R-Dereck Ramirez[2]; 2. 4W-Tyler Wolff[1]; 3. 02-Tanner Mullens[10]; 4. WW1-Ricky Alvarado[3]; 5. 87F-Darron Fuqua[4]; 6. 0-Jake O'Neil[6]; 7. 65-Tyler Davis[13]; 8. 65X-Carlos Ahumada Jr[5]; 9. 32-DJ Shannon[8]; 10. 11X-Tom Berry Jr[16]; 11. 6ST-Joseph Thomas[12]; 12. 89-Steven Whiteaker Jr[17]; 13. 88-Chad Wheeler[7]; 14. 58X-Gary Christian[9]; 15. 60-Dan Ebert[19]; 16. 71-Dustin Strand[20]; 17. 8N-Nick Rivera[18]; 18. 10B-Brandon Givens[11]; 19. 2SS-Mark Smith[22]; 20. 16B-Randy Brown[14]; 21. 88X-Nathan Smith[15]; 22. 4RX-Jared Russell[23]; 23. 20-Rodney Sanders[21]; 24. 24X-Xavier Ortega[24]
Shocker Hitch X-Mods presented by Barnett Harley-Davidson
A Feature 1 (20 Laps): 1. 19-Lucas Rodin[2]; 2. X15-Jesse Haynie[7]; 3. 7G-Gabe Hodges[8]; 4. 0-Jimmy Ray[11]; 5. 22-Dalton Ragsdale[3]; 6. J2-Kris Jackson[23]; 7. 5C-Preston Carr[14]; 8. 28-Andy Bryant[18]; 9. 06-Chris Theodore[20]; 10. 79-Allen Owen Jr[6]; 11. 24-Jonathon Ortega[16]; 12. 17S-Mike Striegel[9]; 13. 11-Lucas Ward[5]; 14. 5-Reece Solander[17]; 15. M17-Rob Moseley[1]; 16. 12-Justin Allen[24]; 17. 32-Eric Haugland[4]; 18. 5M-Eric McNutt[13]; 19. 7C-John Carney[21]; 20. 21A-Andrew Hodges[19]; 21. 93-Greg Gorham[22]; 22. 34G-Billy Gordon[10]; 23. 3S-Sal Gomez[15]; 24. 17-Peyton Gallardo[12]
Article Media
Back to News