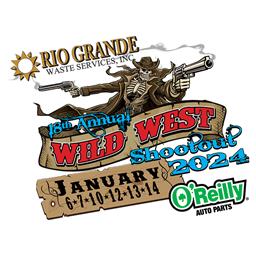 1/8/2023
Wild West Shootout
---
Davenport and Jackson Repeat in Sunday Night Wild West Shootout Action
VADO, N.M. (Jan. 8, 2023) — FK Rod Ends Vado Speedway Park played host to the second round of the 17th annual Rio Grande Waste Services Wild West Shootout presented by O'Reilly Auto Parts on Sunday night, where great racing reigned supreme.
Jonathan Davenport and Kris Jackson scored repeat victories in their respective divisions, while Dereck Ramirez broke through with his first win of the 2023 miniseries in the Modified ranks.
It's only eight days into the new year and Jonathan Davenport appears on his way to another wallet-busting season, one that could very well again eclipse a million dollars by year's end.
For the second straight night, the sport's juggernaut from Blairsville, Ga., laid a smackdown on the competition at the Wild West Shootout, leading all 40 laps from the outside front row to pocket another $10,000 to begin 2023. Better yet, Davenport remains eligible for the $300,000 Penske Racing Shocks Paydirt Jackpot bonus should he sweep the week's four remaining features.
Though Davenport never officially relinquished the lead, he had to turn back a bevy of sliders from Elk Grove, Calif.'s Kyle Larson, who gave Superman all he could handle down the stretch. Larson finished 1.840 seconds behind Davenport in second.
"He just wouldn't give up. I'm like, dammit, just quit," a smiling Davenport said of Larson in victory lane. "No, he did a good job. I couldn't really tell where he was getting a run on me because he kept sliding me in different corners, so I kept changing my line up a little bit — how hard I'd run around the cushion."
All told, Larson attempted five sliders on the pace-setting Davenport over Sunday's final 19 laps. The last of those came with four laps to go, when the former NASCAR Cup champion drove Kevin Rumley's Late Model hard into turn three and narrowly cleared Davenport rounding the front stretch.
Larson couldn't maintain his momentum in that final effort, though, as Davenport regathered himself — and the lead — before the flag stand to nearly win by multiple seconds. Davenport and his new-look crew bolted on a softer tire than what they used in Saturday's win, which added a wrinkle in Sunday's winning strategy.
"It was kind of a different tire game tonight once again," Davenport said. "The track was obviously totally different than what it was last night. … I just tried to save it so the last 10 to 15 laps I could burn it down."
There weren't many moments in the last half of Sunday's feature where Davenport left the top of the racetrack. That was the place to be most of the night despite Larson mixing in the bottom groove in his attack to keep pace with the sport's top-ranked driver.
"That was such a fun race. What an amazing racetrack," Larson said. "We had a big cushion to lean on; had some moisture on the bottom early. My car was really good. A big thank you to Kevin Rumley and Longhorn, and everybody who helps out who tries to get me comfortable. We changed a lot of stuff the last few times we've had the car. I feel like maybe we are getting closer on something. Nice we get to race consecutive nights to build on the notebook. A blast racing there. I threw a handful of sliders, but I could never get squared up on exit how I needed to."
Larson's first slide job attempt came with 19 laps to go in turns three and four, an effort that started by cutting off the top of turn one and through the middle of turn two. The diamond maneuver happened to be inspired by Davenport, someone that Larson, needless to say, studies.
"He's so good at doing that diamond line at almost every racetrack he runs. Trying to just match what he does because he's the best," Larson said. "I feel like there were times I got in there OK and could make a run on him. But most the time I feel like I wasted too much time.
"Once I got back to ripping the top, I could make up so much time through entry. … Just an awesome racetrack. Hats off to the crew. Hats off to everybody that puts on this event. Hopefully it'll continue to get bigger and bigger after seeing all these great races here."
Only two cautions slowed Sunday's feature. The first yellow flag flew for Cade Dillard on lap 13, which erased Davenport's two-second lead, while the second stoppage occurred on lap 16 for Don Shaw.
The last 24 laps set the stage for the thrilling finish between Davenport and Larson. Oakwood, Ill.'s Bobby Pierce briefly made it a three-way battle for the win with nine laps remaining, dislodging Larson from the runner-up position off bold slide job through turn one.
Larson regained second with seven laps to go, though, as Pierce couldn't keep his new Longhorn Chassis off the wall when attempting another slider.
"You can't ever count none of these guys out, no matter what/ Bobby was out there lurking somewhere," Davenport said. "There was a big cushion up there, so I knew he was going to be good. We just happened to get lucky and draw on the front row there and hang on. We're keeping that dream alive so far."
The dream Davenport speaks of is the potential $300,000 Paydirt Jackpot should he sweep the week's remaining four features. If there's anything else to gather from Sunday's second night of the Wild West Shootout, it's that Davenport doesn't seem to be putting himself under too much pressure. His humor is evident.
"Man, I need to keep my fat butt off the couch and need to start doing something in the winter," Davenport said through a laugh. "I was about wore out there. I just have thank my guys once again. They did an excellent job."
Despite having to transfer into the main event via B-Main action, Kris Jackson persevered to top the Shocker Hitch X-Mod action presented by Barnett Harley-Davidson for the second-straight night.
The 17th-starting Jackson charged past early leaders Jesse Haynie and Jimmy Ray to take the lead on lap 15. Once out front the Lebanon, Mo. inched away from the field to claim his second-straight victory, which was worth $1,000.
Andy Bryant, Jesse Haynie, Reece Solander, and Nate Reinke completed the Top-5 finishers.
The night was rounding out by Dereck Ramirez making a late-race charge to bank the victory in the Mesilla Valley Transportation / Border Tire Modifieds presented by Rancho Milagro.
From the Shocks By Hammer Pole Position, Tom Berry Jr. led the first 20 laps before getting over the cushion exiting turn four, allowing Dereck Ramirez to go to the lead. The Woodward, Okla. racer maintained the lead by a narrow margin over the closing laps to score the $2,000 win.
Berry Jr. crossed the finish line in second with Rodney Sanders, Dan Ebert, and Tyler Davis in fifth.
The miniseries will see a day off on Monday before hosting an Open Practice Session on Tuesday, Jan. 10 from 5 p.m. – 9 p.m. MST. Grandstand and pit admission is free. Any team wishing to practice will be charged a flat fee of $200.
Racing action resumes on Wednesday, Jan. 11 with the second round of the mega miniseries. The evening's festivities will include complete programs for the Dirt Track Bank Super Late Models presented by Black Diamond Race Cars ($10,000-to-win), the Mesilla Valley Transportation / Border Tire Modifieds presented by Rancho Milagro ($1,000-to-win), and Shocker Hitch X-Mods presented by Barnett Harley-Davidson ($500-to-win).
The pit gate opens at 2:00 p.m. MST with grandstand gates opening at 4:00 p.m. Hot laps are at 4:30 p.m. with racing action at 6:00 p.m.
Grandstand general admission (ages 13-and-up) is $25, while children (ages 6-12) are $10, and kids (ages 5-and-under) are free.
Reserved seating is only available online and can be purchased at www.wildwestshootout.net/buy-tickets/ for $30 per ticket.
For full event details, please visit www.WildWestShootout.net.
The Rio Grande Waste Services Wild West Shootout presented by O'Reilly Auto Parts is made possible by Rio Grande Waste Services, O'Reilly Auto Parts, FK Rod Ends, Dirt Track Bank, Black Diamond Race Cars, Hoker Trucking, ShockerHitch.com, Penske Racing Shocks, Shaw Trucking, Schaeffer Oil, SportTruck RV, Nissan of Las Cruces, Rancho Milagro Racing, Eagle Moon Hemp, Top of the World Ranch, Mesilla Valley Transportation, Border Tire, Wehrs Machine & Racing Products, Barnett Harley Davidson, Dirt Pro Grading & Padwork, Contractors & Developers (C&D) Bonding, Shocks by Hammer, Midwest Sheet Metal, Speedway Motors, Day Motor Sports, Hoosier Racing Tires, Sunoco Race Fuels, Pro Power Engines, Beaver Stripes, Arizona Differential, Gorsuch Performance Solutions, Toste Construction, Winning Edge Carburetion, Sipes Tractor & Transport Service, Merry's Home Furnishings, The Joie of Seating, Screven Motor Speedway, DirtDraft.com, and FloRacing.
17th annual Rio Grande Waste Services Wild West Shootout presented by O'Reilly Auto Parts
FK Rod Ends Vado Speedway Park
Jan. 8, 2023
Dirt Track Bank Super Late Models presented by Black Diamond Race Cars
A Feature 1 (40 Laps): 1. 49-Jonathan Davenport[2]; 2. 6-Kyle Larson[5]; 3. 32-Bobby Pierce[3]; 4. B5-Brandon Sheppard[4]; 5. 7-Ricky Weiss[7]; 6. 157-Mike Marlar[13]; 7. 32S-Chris Simpson[15]; 8. 1T-Tyler Erb[18]; 9. 58-Garrett Alberson[1]; 10. 1ST-Johnny Scott[6]; 11. 21-Billy Moyer Sr[17]; 12. 20-Rodney Sanders[9]; 13. 28-Dustin Sorensen[21]; 14. 14S-Collen Winebarger[22]; 15. 49T-Jake Timm[16]; 16. E85-Jason Strand[19]; 17. 04-Tad Pospisil[8]; 18. 28W-Jim Whisler[24]; 19. 15S-Clayton Stuckey[25]; 20. 2S-Stormy Scott[10]; 21. 75-Terry Phillips[11]; 22. 42S-Don Shaw[14]; 23. 15-Justin Duty[20]; 24. 97-Cade Dillard[12]; 25. 7C-Cole Wells[23]
Mesilla Valley Transportation / Border Tire Modifieds presented by Rancho Milagro
A Feature 1 (25 Laps): 1. 4R-Dereck Ramirez[3]; 2. 11X-Tom Berry Jr[1]; 3. 20-Rodney Sanders[4]; 4. 60-Dan Ebert[19]; 5. 65-Tyler Davis[5]; 6. 4W-Tyler Wolff[13]; 7. 02-Tanner Mullens[17]; 8. 32-DJ Shannon[10]; 9. 58X-Gary Christian[2]; 10. 6ST-Joseph Thomas[18]; 11. 89-Steven Whiteaker Jr[22]; 12. 71-Dustin Strand[24]; 13. 4RX-Jared Russell[15]; 14. 87F-Darron Fuqua[20]; 15. 65X-Carlos Ahumada Jr[6]; 16. 88-Chad Wheeler[23]; 17. 8N-Nick Rivera[21]; 18. 10B-Brandon Givens[9]; 19. 99-Terry Tipton[12]; 20. 24-Rick Ortega[11]; 21. 71H-Philip Houston[16]; 22. 18JR-Ricardo Olague Jr[14]; 23. 0-Jake O'Neil[8]; 24. 73B-Shad Badder[7]
Shocker Hitch X-Mods presented by Barnett Harley-Davidson
A Feature 1 (25 Laps): 1. J2-Kris Jackson[17]; 2. 28-Andy Bryant[15]; 3. X15-Jesse Haynie[9]; 4. 5-Reece Solander[3]; 5. 71-Nate Reinke[6]; 6. 06-Chris Theodore[14]; 7. 17-Peyton Gallardo[12]; 8. 79-Allen Owen Jr[23]; 9. M17-Rob Moseley[7]; 10. 19-Lucas Rodin[18]; 11. 7S-Hunter Sandy[22]; 12. 65X-Dustin Smith[5]; 13. 5M-Eric McNutt[4]; 14. 5W-Derek Watson[11]; 15. 44JT-Jaime Torres[24]; 16. 24L-Dakota Lowe[13]; 17. 82-Sherman Barnett[8]; 18. 0-Jimmy Ray[2]; 19. 12-Justin Allen[10]; 20. 34G-Billy Gordon[19]; 21. 17S-Mike Striegel[16]; 22. 44-Christy Barnett[20]; 23. 07-Donavon Flores[1]; 24. 666-Fito Gallardo[21]
Article Media
Back to News