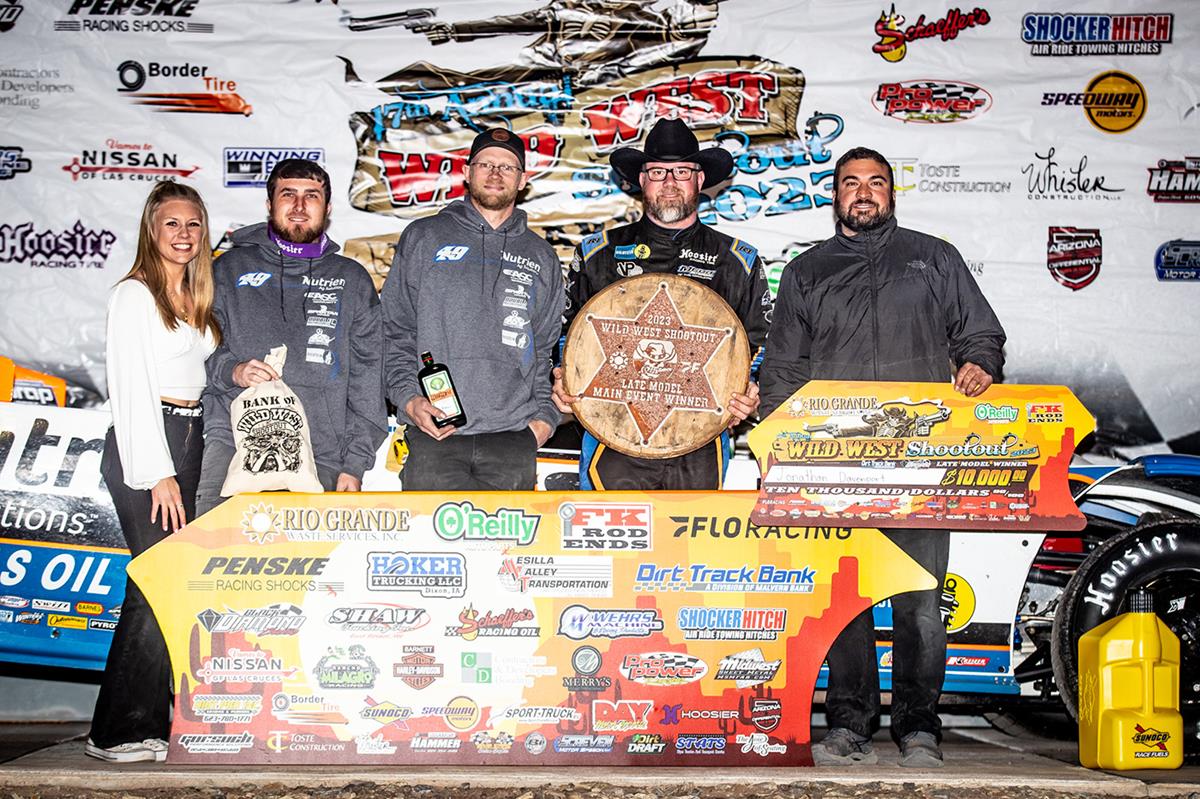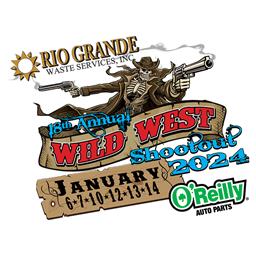 1/7/2023
Wild West Shootout
---
Davenport, Jackson, and O'Neil Bank Opening Round WWS Wins
VADO, N.M. (Jan. 7, 2023) — Over 150 race teams crowded the pits at FK Rod Ends Vado Speedway Park on Saturday for the opening round of the 17th annual Rio Grande Waste Services Wild West Shootout presented by O'Reilly Auto Parts.
Banking victories in the lid-lifting round was Jonathan Davenport, Kris Jackson, and Jake O'Neil.
A new year and a new-look crew didn't dull Jonathan Davenport's momentum. Making his 2023 debut just over one month since closing out a historic $2 million '22 season, the 39-year-old superstar from Blairsville, Ga., continued his winning ways with a $10,000 Super Late Model victory in Saturday night's 40-lap Rio Grande Waste Services Wild West Shootout opener at Vado Speedway Park.
Anyone who wondered whether Davenport might need some time to find his rhythm working with two new Double L Motorsports crew members saw a driver already firing on all cylinders. He grabbed the lead for good from Bobby Pierce of Oakwood, Ill., following a lap-26 and never looked back en route to clinching the $10,000 first-place prize by 1.052 seconds over Brandon Sheppard of New Berlin, Ill. in the Dirt Track Bank Super Late Model division presented by Black Diamond Race Cars.
"I think that right there closed any doubts in any minds," Davenport said confidently when asked about his quick return to victory lane with newcomers Cory Fostvedt (crew chief) and Michael Bixby (tire specialist) joining returning race engineer Vinny Guliani.
Davenport wasn't seriously threatened after wrestling the lead from the 26-year-old Pierce, who paced all but one of the race's first 26 laps — he was nosed out at the line by Davenport on lap 19 — before ceding the position to the eventual winner and then spinning out of contention on lap 30 while running second. Pierce slid high in turn two, scraped the outside wall and twirled, bringing out the second and final caution flag of the A-main.
Sheppard — like Pierce, debuting a new Longhorn car — inherited the runner-up spot with Pierce's miscue and stayed there for the remainder of the distance. Ricky Weiss of Headingley, Manitoba, ran third for the final 10 laps in his Sniper Chassis while Cade Dillard of Robeline, La., placed fourth in his Black Diamond mount and NASCAR Cup Series star Kyle Larson of Elk Grove, Calif., completed the top five in the K&L Rumley Enterprises Longhorn machine.
Davenport flashed vintage form in his first-ever start at the 3/8-mile Vado oval, racing patiently into contention during the race's first half before seizing control.
"It was kind of a gamble on tires," Davenport said. "Thanks to Hoosier Tire for finally listening to us, all the racers and all the crews and car owners. They kind of put us on a little bit different tire rule that's gonna be all the way across the country now and they give us some choices tonight and we picked right.
"I just kept managing the racetrack, trying to manage my tires. I knew I was a little harder (on compound choice) than they was and I didn't want to burn the edges off early. I thought I might catch (Pierce) in (lapped) traffic and I did one time (to peak ahead on lap 19) and Don (Shaw) come down … it just worked out for Bobby there. Then on that (lap-26) restart it kind of cleaned up right there around the top so I got me a big run there and just tried to slide him clean (to assume command at lap 27) and set a good pace from there."
A winner 24 times in 2022, Davenport dived into the new campaign with Jason Durham, his crew chief for the past five years, gone to work with Stormy Scott of Las Cruces, N.M. But he showed no signs of a letdown as he logged his first victory much quicker than he did a year ago, when he finally broke through on April 23 in his 16th start of the season.
Davenport shined driving a fresh Lance Landers-owned No. 49 that seemed to fit him very well.
"This is one of (Longhorn's) new race cars," Davenport said. "They build a phenomenal piece. We almost had one-two-three (Longhorn finish) … I don't know what happened to Bobby (Pierce) there."
Davenport's checkered flag also gives him a shot at the big prize of the miniseries: the $300,000 Penske Racing Shocks Paydirt Jackpot bonus for sweeping all six scheduled features. He can also pocket $100,000 for winning five times and $25,000 for capturing four races.
"You can't win 'em all if you don't win the first one," Davenport said with a smile.
Sheppard, who turns 30 on Jan. 27, climbed forward from the seventh starting spot to net a solid second-place finish in his first start in a Longhorn car for his newly-formed Sheppard-Riggs Racing operation.
"I'm tickled to death man," Sheppard said. "The team's been doing a phenomenal job. We've been working our tails off on this thing and getting this operation put together.
"I can't say enough about this car. This Longhorn Chassis was awesome. I could put it wherever I wanted to."
Weiss, 34, was satisfied with claiming the final podium spot after starting fifth.
"We were just trying to learn a little bit," said Weiss, who won a World of Outlaws Case Late Model Series feature at Vado in January 2021. "It's not really my style to go up and tear the fence down. We learned a lot tonight. I hope we can get a couple spots better and keep thanking all our sponsors this week."
After picking up three wins in the 2022 edition of the mega miniseries, Missouri's Kris Jackson hit the ground running in 2023 with a dominant victory in the Shocker Hitch X-Mod division presented by Barnett Harley-Davidson.
The fifth-starting Jackson pursued early leader Jimmy Ray before taking control of the lead on the eighth circuit. Once out front the driver of the No. J2 maintained a comfortable advantage for the remaining distance before ultimately crossing the finish line 3.017 seconds ahead of Andy Bryant, Jesse Haynie (started 17th), Reece Solander (started 15th), and Scott Bintz.
Meanwhile, in the Mesilla Valley Transportation / Border Tire Modified division presented by Rancho Milagro it was Jake O'Neil who wired the field from the Shocks By Hammer Pole Position to score the $2,000 victory. The Tucson Ariz. racer started on the Shocks By Hammer Pole Position with Tanner Mullens joining him on the front row.
O'Neil jumped to the lead at the drop of the green flag and paced the field for the remainder of the 25-lap feature to score the victory. He was followed across the finish line by Mullens with Dan Ebert, Rodney Sanders, and Tom Berry Jr. fifth.
For the second-straight year Rancho Milagro Racing is the presenting sponsor for the Mesilla Valley Transportation / Border Tire Modifieds. Thanks to the added support the class races four nights for the increased $2,000 to win purse along with a pair of $1,000-to-win programs.
Action continues on Sunday, Jan. 8 with the second round of the mega miniseries. The evening's festivities will include complete programs for the Dirt Track Bank Super Late Models presented by Black Diamond Race Cars ($10,000-to-win), the Mesilla Valley Transportation / Border Tire Modifieds presented by Rancho Milagro ($2,000-to-win), and Shocker Hitch X-Mods presented by Barnett Harley-Davidson ($1,000-to-win).
The pit gate opens at 1:00 p.m. MST with grandstand gates opening at 3:00 p.m. Hot laps are at 3:30 p.m. with racing action at 5:00 p.m.
Grandstand general admission (ages 13-and-up) is $25, while children (ages 6-12) are $10, and kids (ages 5-and-under) are free.
Reserved seating is only available online and can be purchased at www.wildwestshootout.net/buy-tickets/ for $30 per ticket.
For full event details, please visit www.WildWestShootout.net.
The Rio Grande Waste Services Wild West Shootout presented by O'Reilly Auto Parts is made possible by Rio Grande Waste Services, O'Reilly Auto Parts, FK Rod Ends, Dirt Track Bank, Black Diamond Race Cars, Hoker Trucking, ShockerHitch.com, Penske Racing Shocks, Shaw Trucking, Schaeffer Oil, SportTruck RV, Nissan of Las Cruces, Rancho Milagro Racing, Eagle Moon Hemp, Top of the World Ranch, Mesilla Valley Transportation, Border Tire, Wehrs Machine & Racing Products, Barnett Harley Davidson, Dirt Pro Grading & Padwork, Contractors & Developers (C&D) Bonding, Shocks by Hammer, Midwest Sheet Metal, Speedway Motors, Day Motor Sports, Hoosier Racing Tires, Sunoco Race Fuels, Pro Power Engines, Beaver Stripes, Arizona Differential, Gorsuch Performance Solutions, Toste Construction, Winning Edge Carburetion, Sipes Tractor & Transport Service, Merry's Home Furnishings, The Joie of Seating, Screven Motor Speedway, DirtDraft.com, and FloRacing.
17th annual Rio Grande Waste Services Wild West Shootout presented by O'Reilly Auto Parts
FK Rod Ends Vado Speedway Park
Jan. 7, 2023
Dirt Track Bank Super Late Models presented by Black Diamond Race Cars
A Feature 1 (40 Laps): 1. 49-Jonathan Davenport[4]; 2. B5-Brandon Sheppard[7]; 3. 7-Ricky Weiss[5]; 4. 97-Cade Dillard[10]; 5. 6-Kyle Larson[3]; 6. 2S-Stormy Scott[13]; 7. 1T-Tyler Erb[11]; 8. 157-Mike Marlar[9]; 9. 58-Garrett Alberson[1]; 10. 32S-Chris Simpson[15]; 11. 21-Billy Moyer Sr[12]; 12. 1ST-Johnny Scott[6]; 13. 32-Bobby Pierce[2]; 14. 49T-Jake Timm[14]; 15. 75-Terry Phillips[8]; 16. 15-Justin Duty[16]; 17. 91-Rusty Schlenk[22]; 18. 15S-Clayton Stuckey[24]; 19. 42S-Don Shaw[19]; 20. 86-Kyle Beard[20]; 21. 14M-Morgan Bagley[17]; 22. 04-Tad Pospisil[23]; 23. 14S-Collen Winebarger[25]; 24. 28-Dustin Sorensen[18]; 25. 20-Rodney Sanders[21]
Mesilla Valley Transportation / Border Tire Modifieds presented by Rancho Milagro
A Feature 1 (25 Laps): 1. 0-Jake O'Neil[1]; 2. 02-Tanner Mullens[2]; 3. 60-Dan Ebert[4]; 4. 20-Rodney Sanders[6]; 5. 11X-Tom Berry Jr[7]; 6. 4R-Dereck Ramirez[9]; 7. J17-Jake Gallardo[14]; 8. 87F-Darron Fuqua[10]; 9. 6ST-Joseph Thomas[13]; 10. 88-Chad Wheeler[8]; 11. 58X-Gary Christian[12]; 12. 4W-Tyler Wolff[17]; 13. 88X-Nathan Smith[3]; 14. 4RX-Jared Russell[19]; 15. 8N-Nick Rivera[20]; 16. 65-Tyler Davis[15]; 17. 65X-Carlos Ahumada Jr[22]; 18. 19SB-Lance Mari[18]; 19. 71H-Philip Houston[21]; 20. 73B-Shad Badder[23]; 21. 24X-Xavier Ortega[24]; 22. 16B-Randy Brown[16]; 23. 2SS-Mark Smith[11]; 24. 91-Joe Duvall[5]
Shocker Hitch X-Mods presented by Barnett Harley-Davidson
A Feature 1 (25 Laps): 1. J2-Kris Jackson[5]; 2. 28-Andy Bryant[7]; 3. X15-Jesse Haynie[17]; 4. 5-Reece Solander[15]; 5. 1S-Scott Bintz[3]; 6. 05-Aasa Flores[13]; 7. 44-Christy Barnett[8]; 8. 06-Chris Theodore[16]; 9. 12-Justin Allen[11]; 10. 24-Jonathon Ortega[14]; 11. M17-Rob Moseley[6]; 12. 79-Allen Owen Jr[24]; 13. 71-Nate Reinke[20]; 14. 07-Donavon Flores[18]; 15. 17-Peyton Gallardo[22]; 16. 7C-John Carney[1]; 17. 25-Kenny McDonald Jr[4]; 18. 22-Dalton Ragsdale[10]; 19. 7S-Hunter Sandy[19]; 20. 21-Jake Smith[23]; 21. 93-Greg Gorham[21]; 22. 82-Sherman Barnett[12]; 23. 32-Eric Haugland[9]; 24. 0-Jimmy Ray[2]
Article Media
Back to News